I'm going to try to defend my Toftrees Cup Senior Club Championship (the Toftrees Cup is our handicapped championship competition) on Saturday and Sunday. Last year I won with a net 5 under, going 68-71 for a 139, and I won by three strokes. It's a fun time because the competition takes place from the senior tees which we ordinarily never play.
This will also be the first time in a month that I've tried to play 18 holes on consecutive days so I'll be curious about how my knees will hold up. I've cut my rounds back to about 1 1/2 a week and its really helped. I played 18 yesterday in a practice round and my knees felt the best they have for a month. I shot an 88 for a net 72 and that's without making a putt on the front nine so I'm optimistic that I can give my title a good defense.
I think I may pull a Tiger and leave the driver in the bag on most holes. I've got a 20 degree Cobra Baffler hybrid that I can hit over 200 yards and I may go with it since the course plays much shorter from the senior tees than it does the normal tees.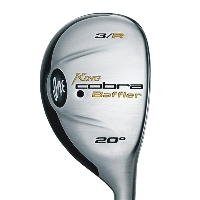 As a frame of reference, Our senior tees (5571 yards, rating 68.1, and slope of 129) are about the same as Old Orchard white's (5731 yards, rating 68.7, and slope of 127). We have five sets of tees and normally I play either the white (6259, 71.4, 133) or the blue tees (6553, 72.3, 135) so you can see there will be a considerable difference from what I typically play (PS – I almost never play the black – 7062, 74.3, 138 – I've learned my limits 🙂 ).
I used the hybrid yesterday during my practice round and showed that there's no par four that I can't get inside of 150 yards with the it. There is one par five that would be reachable in two with the driver but its a slight dog leg right and it would be easy to hit a driver through the dog leg into the woods so the sensible play would be to not use it there either. That's the 17th hole so I will keep the driver in the bag in case I come to it on Sunday and need an eagle. 🙂
As usual, I will keep all updated on my results.